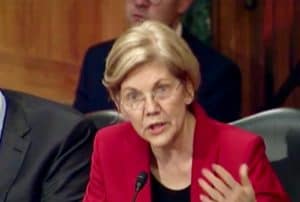 Senator Elizabeth Warren, a member of the Senate Banking Committee, has called on the Secretary of the Treasury Janet Yellen to reign in cryptocurrency – now.
In a letter sent to Yellen, Senator Warren told the Secretary to use the Financial Stability Oversight Council (FSOC) to mitigate the risk of the "highly volatile cryptocurrency market" and create a comprehensive approach to regulating digital assets.
Warren said:
"As the demand for cryptocurrencies continues to grow and these assets become more embedded in our financial system, consumers, the environment, and our financial system are under growing threats. FSOC must act quickly to use its statutory authority to address cryptocurrencies' risks and regulate the market to ensure the safety and stability of consumers and our financial system."
Yesterday, in a Senate Banking Committee hearing, Senator Warren slammed cryptocurrency as a risk to the entire financial system. Couching her criticism under the guise of investor protection, Warren called the cryptocurrency ecosystem "lousy."
"Instead of lousy banks [crypto] puts control in the hands of shadowy developers."
Senator Warren is under the belief that the traditional financial system has become intertwined with digital assets "such that disruption in the cryptocurrency market could spread throughout the financial sector."
In the letter addressed to Secretary Yellen, Senator Warren outlined areas where she believes there is risk surrounding cryptocurrency:
Exposure to Hedge Funds and Other Investment Vehicles that Lack Transparency
Risk to Banks
Unique Threats Posed by Stablecoins
Use in Cyberattacks that Can Disrupt the Financial System
Risks from "Decentralized Finance" (DeFi)
The letter adds:
"FSOC should review this matter and determine whether it is appropriate to utilize its statutory authority to contain the systemic risks posed by the growing cryptocurrency market. The longer that the United States waits to adapt the proper regulatory regime for these assets, the more likely they will become so intertwined in our financial system that there could be potentially serious consequences if this market comes under stress."
Earlier this month, Warren told SEC Chairman Gary Gensler that the securities regulator was not adhering to its mission of basic investor protections in regards to crypto exchanges.
Senator Warren is known as one of the most liberal members of the US Senate. She has long been a critique of cryptocurrency and has pushed back on financial innovation as well as attacking big banks.
---
Elizabeth Warren FSOC Crypto Letter 07.26.2021
---