[ad_1]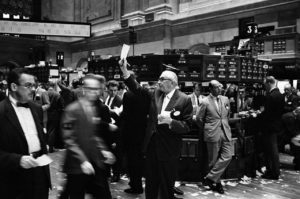 In yet another sign that the day trading craze is here to stay (due in part to permanent changes in consumer behavior following the COVID outbreak), a pre-product stock trading Fintech has bagged $10 million via a seed round.
Shares.io, a Fintech firm launched this year, aims to focus its business model around the "investing made social" concept.
The startup has asked subscribers to join its waitlist for the upcoming launch of the Shares app in the United Kingdom. The company is also planning to enter other European markets by early next year.
The app and "social-first platform" for retail investors supports no-minimum, no-fees access to around 1,500 stocks.
As mentioned in the announcement, Shares.io has received funding from Singular, Valar Ventures, André Mohamed, co-founder of Freetrade, and several others.
In a day-trading boom that has really taken offer during the pandemic, meme stocks like GameStop (GME) and Nokia (NOK), along with digital currencies have become increasingly popular.
In a historically-low interest rate environment, consumers have been turning to riskier businesses to generate revenue. Unprecedented circumstances have also resulted in crypto-assets like Bitcoin (BTC), Ethereum (ETH), Cardano (ADA), and Dogecoin (DOGE) reaching new all-time highs.
Benjamin Chemla, CEO and Co-founder at Shares is a serial entrepreneur with an established track record that includes launching Stuart back in 2015. Stuart is considered a key European player in last-mile logistics and currently has 600 workers on its payroll.
The Fintech startup noted that it will use the proceeds from this latest investment round to further scale its business operations. The company intends to "empower users with tools that open doors to first-time investors and increase financial inclusion."
The firm's Fintech app will be set up in a manner that enables investors to initiate conversations, network and learn from their friends and experts as a community – together in a single app that includes useful portfolio management tools.
The app features a forum and online chat capabilities through which members are able to "react" to the market in "real time."
Spotlight, a curated market intelligence feed, should enable members to develop their financial awareness and educate themselves about investment basics and the latest financial trends. They app will also provide informative guides on tax collection, regulatory guidelines, and how to ensure compliance.
Chemla noted that it's an "entirely new category of fintech investing platform that resonates with today's investors."
He added:
"There is still untapped market opportunity in this high-growth fintech space and Shares is uniquely positioned as Europe's first social and investing app to fast become a leader in the industry."


[ad_2]

Source link