[ad_1]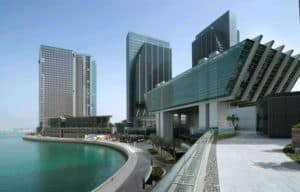 The Abu Dhabi Global Market (ADGM) has introduced the 5th edition of its flagship project,  Fintech Abu Dhabi Innovation Challenge. The challenge is reportedly a part of the upcoming Fintech Abu Dhabi festival – which is scheduled to take place in November 2021.
The ADGM has teamed up with "Corporate Champions" across financial, corporate and government sectors, in order to create various challenge statements. Champions reportedly include Emirates NBD, Etihad Credit Insurance, First Abu Dhabi Bank, Pearl Data Direct, The Saudi British Bank and Standard Chartered Bank.
One of the main challenge statements is being supported by the ADGM's regulatory agency, the Financial Services Regulatory Authority (FSRA). The challenge is seeking "Suptech" solutions for the real-time oversight of client capital and investment requirements.
Successful Fintech applicants will be working cooperatively with these entities to create basic proof-of-concepts (POCs) for the commercial deployment of financial services solutions. They'll be able to test out their solutions at the ADGM Digital Lab, a digital-first sandbox and marketplace that's being supported by UAE's government-backed accelerator, Ghadan. The sandbox is currently being supervised by the FSRA.
Qualified Fintechs will get an opportunity to enter commercial contracts, along with special  prizes and stipends from Corporate Champions and the ADGM.
Assessment criteria for the challenges include overall effectiveness of the POC or product, maturity and scalability, and successful deployment in UAE markets. Shortlisted Fintech projects will get a chance to pitch their ideas at the Fintech Abu Dhabi 2021.
Emmanuel Givanakis, CEO of the FSRA, stated:
"The FSRA is excited to launch the Fintech Abu Dhabi Innovation Challenge by using the ADGM Digital Lab to host innovative solutions and foster collaborative partnerships between fintechs and corporate institutions, transforming the financial services industry at a time when digitalisation has become the key to success."
As reported by Fintech News Middle East, the challenge statements will aim to cover digital trust identities, contact point verification, risk assessment, premium calculation, advanced settlements, and fraud prevention / anti-money laundering (AML). They'll also include customization for retail and small business customers, carbon emission data, and sustainable supply chains.
Other projects currently under Fintech Abu Dhabi include an international Fintech-focused tour, called The Search. The festival will feature 100 Fintechs that have been scouted from across the globe in a series of demo-day events.


[ad_2]

Source link