[ad_1]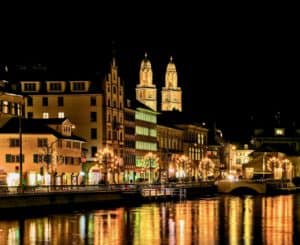 European payments company Worldline and Switzerland's digital asset platform Bitcoin Suisse recently announced the official launch of their omnichannel cryptocurrency payment solution, called WL Crypto Payments.
The integrated solution has been designed to enable over 85,000 Switzerland-based merchants on Worldline's network to take Bitcoin (BTC) or Ethereum (ETH) as a payment option at the point-of-sale (POS) and via digital commerce platforms.
Merchants who may be using the Worldline POS or digital commerce payments services are now able to support BTC and ETH transactions. They may download the WL Crypto Payments mobile app or install the Worldline payment plugin for their e-commerce store.
Customers who choose to pay with cryptocurrency may do so via their mobile crypto wallet apps, the announcement confirmed.
Prices displayed by the merchant in CHF, can be, upon selection by the clients, quoted in Bitcoin or Ethereum in real time, paid for with crypto-assets, and confirmed to the merchant almost instantly.
WL Crypto Payments allows online merchants to provide payments with virtual currencies without having to deal with excessive volatility risks, as the digital asset transactions are securely converted into Swiss Francs, almost right after payment confirmation.
As noted in the announcement, merchants can benefit from settlement in Swiss Francs and pay-out processes that are combined with other convenient payment methods such as traditional credit cards.
The cryptocurrency-focused payments partnership between Worldline and Bitcoin Suisse was first revealed back in November 2019. The current rollout to all Worldline merchants in Switzerland has come after the completion of a successful pilot program.
Marc Schluep, CEO at Worldline Switzerland, stated:
"The launch of cryptocurrencies acceptance at the POS in Switzerland is a great proof of our ambition: Worldline wants to bring tangible value to merchants across the globe and to facilitate smooth and modern payments in all the markets we operate in. We're happy to collaborate with Bitcoin Suisse on this forward-looking project."
Dr. Arthur Vayloyan, CEO at Bitcoin Suisse, remarked:
"This is a historic milestone for crypto adoption in Switzerland and beyond. It is a great pleasure working together with Worldline to bring user-friendly crypto payments to the market in Switzerland. This step proves once again that Switzerland is a leader in collaborative innovation and a pioneer in the crypto and blockchain industry."


[ad_2]

Source link