[ad_1]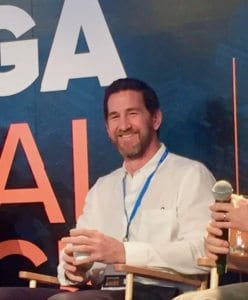 Goldman Sachs (NYSE:GS) partner Adam Dell has reportedly stepped down from his role as one of the main professionals working on Marcus, the digital-only bank created by the giant Wall Street investment bank.
Dell has left the initiative as Goldman Sachs gets ready for a major transformation in its consumer business model, BI confirmed. Dell had been serving as Partner and Head of Product at Marcus Goldman Sachs.
Dell was involved in launching Clarity Money, the personal financial app, back in 2016 and then sold it off to Goldman a few years later. The deal had placed the Fintech app near the center of the digital bank Marcus' line of products and services.
Dell's decision to leave the initiative had been revealed in a memo shared with BI last month, which was shortly before Goldman closed down Clarity Money, and began providing Marcus Insights as somewhat of a replacement.
Although Dell, who served as Head of Digital Product for the bank's consumer business, has now officially retired from the institution's partnership, he will keep serving in his advisory director role.
He remarked:
"I'm coming up on three years at the firm and it feels like the right time to look to the next chapter. I appreciate how supportive Goldman has been as I consider what's next. I will say that I still see a lot of opportunities to build new things in financial services."
Dell had joined Goldman back in 2018, after the company's acquisition of Clarity Money. Under Dell's guidance and leadership, the Clarity Money team transitioned into the Marcus digital bank.
Marcus is now focused on offering more than just savings accounts and loans. The Fintech platform will offer checking accounts and various other personal financial management solutions.
Just a couple of weeks after Dell's departure was confirmed, Marcus informed its clients about closing down Clarity in March, and providing Marcus Insights (introduced in October 2020). Marcus Insights aims to provide alternative financial education tools for clients. Insights obtained from Clarity users had led to the creation of the new Insights tool, Dell had noted.
Dell had also previously suggested that Marcus was looking into developing an AI-enhanced personal financial management product.
When Goldman Sachs acquired Clarity Money, there were some initial plans that hinted that the app would become the core or the foundation for the institution's digital bank. But then this strategy was changed as Goldman decided to create another app for Marcus. The banking institution began providing the new platform about a year ago, but it hasn't been as well-received as initially expected.
Now Clarity Money will be closing down as Dell leaves the initiative. Other Clarity Money project members have also reportedly left the project.
Dell added:
"I'm pleased with the contribution the Clarity Money team has made to the Marcus vision. The firm is well positioned to deliver on its promise to build the digital bank of the future."
In another announcement, Goldman confirmed that York and Cohen have named six new product team members (revealed in a memo sent to company employees). Sonali Divilek, who has worked extensively at Amex and joined the company a few years back, will now serve as Head of Product for Consumer Products (which includes Marcus).
Goldman has also formed a strategy team within CWM which will be headed by Jemma Wolfe and Stephan Lambert. The team will be responsible for managing consumer and wealth management related acquisitions and overall strategy.
As reported recently, Goldman Sachs topped earnings expectations, and Marcus Banking net revenues were significantly higher (deposits ended year at $97 billion).


[ad_2]

Source link