[ad_1]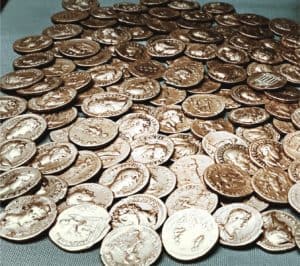 Digital asset exchange Kraken has confirmed that it has added support for Flow (FLOW) trading which was introduced on Wednesday (January 27, 2021) at around 15:30 UTC.
At the time of the launch, only FLOW tokens that had been earned via staking rewards were tradable. Customers who bought FLOW during the initial coin offering (ICO) and also claimed their digital tokens via Kraken (this past October) have reportedly "been earning FLOW rewards and will now be able to trade only these rewards."
Customers may also deposit FLOW rewards "earned elsewhere" to trade on Kraken. But FLOW tokens from the ICO "cannot be traded yet, because they are subject to a network holding period of one year during which they are not transferable."
FLOW trading is currently not available in the United States or Canada (presumably due to regulatory restrictions). FLOW trading is also "not available for citizens or residents of the US or Canada."
As explained by the Kraken team, Flow is a blockchain network developed for a new generation of games and digital collectibles (often referred to as non-fungible tokens or NFTs). Developed to serve as a fast, developer-friendly, and easy-to-use platform, Flow aims to attract more mainstream consumers.
The team that developed Flow is Dapper Labs, which also launched the CryptoKitties game on the Ethereum blockchain. Notably, the original inspiration for Flow was to create a platform that would be ideal for games such as CryptoKitties, and developed specifically for onboarding many new users.
Flow has managed to grow far beyond the original CryptoKitties idea, and now has several partners including major brands and game developers such as the NBA (the game NBA Top Shots), UFC, Samsung, Warner Music, Ubisoft, among others.
Trading Pairs for Flow tokens on Kraken include: FLOW/USD, FLOW/EUR, FLOW/GBP, FLOW/XBT, FLOW/ETH.
(Note: for more details on this offer, check here.)
Kraken has also added British pound (GBP) and Australian dollar (AUD) trading pairs for 14 new assets.
The Kraken team noted:
"As we further our expansion into markets that have substantial potential for growth, Kraken is more than doubling the number of trading pairs available to clients using both the British pound sterling (GBP) and the Australian dollar (AUD). With the addition of 26 new trading pairs, Kraken's GBP and AUD clients now have more seamless access to 14 assets and related services such as our hugely popular staking rewards."
Kraken claims that the United Kingdom is among its "most active client bases for staking, a means to verify and secure blockchain transactions in return for regular rewards." Meanwhile, Australia is now one of the exchange's fastest-growing markets since the introduction of AUD funding last year.
Customers are able to use AUD and GBP to purchase digital assets like Polkadot (DOT) and Cosmos (ATOM) in order to "earn regular rewards through Kraken's staking service." Customers now have "even better access to a service that has well over $1 billion worth of digital assets staked across the board and paid out approximately $27 million in rewards last year," Kraken revealed.
With trading pairs for Aave (AAVE) and Synthetix (SNX), which are considered digital assets "at the forefront of financial innovation," Kraken currently offers AUD and GBP customers a "more direct route into decentralized finance (DeFi), a space whose total value increased by more than twenty-fold last year."
Kraken also mentioned that by adding AUD and GBP support for digital tokens such as Cardano (ADA), Chainlink (LINK), and USDC means the exchange now offers customers "a more comprehensive exposure to other leading projects with billion-dollar market caps."
(Note: for the complete list of trading pairs, check here.)
Like most major US-headquartered digital currency exchanges, Kraken has also halted XRP trading for US residents.
Kraken noted:
"Given the recent SEC filing against Ripple Labs Inc., we are halting XRP trading for U.S. residents no later than January 29, 2021 at 5pm PT (January 30, 2021 at 1:00 UTC). We may begin implementing this process at any time on January 29, 2021, so all U.S. clients are strongly encouraged to resolve their positions prior to that day."
(Note: for more details on this update, check here.)


[ad_2]

Source link