[ad_1]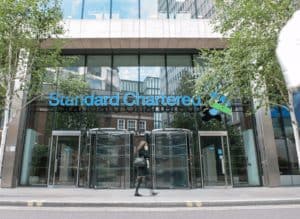 Standard Chartered (LON: STAN) has launched a joint initiative with Linklogis, a supply chain finance tech solution provider from China, in order to provide a blockchain or DLT-powered trade finance platform, called Olea.
Standard Chartered stated that Olea is an all-digital trade finance origination and distribution platform that will bring together institutional investors looking to gain exposure to an alternative asset class with businesses needing access to supply chain financing.
Olea's risk analytics and highly secure platform provides investors with access to various investment options for returns that match their specific risk profiles. The new product aims to offer a transparent, faster and seamless way to gain access to working capital for supply chain industry participants regardless of the size of their operations.
Based in Singapore, Olea will reportedly be led by Amelia Ng from SC Ventures, the venture division of Standard Chartered, as its Chief Executive. Amelia will be joined by Letitia Chau, the Vice Chair and Chief Risk Officer at Linklogis, as deputy CEO.
Standard Chartered and Linklogis' partnership started back in February 2019 when both firms entered an MoU to explore the co-creation of innovation services that will support the supply chain finance sector.
They finalized their very first joint deep-tier supply chain financing deal in August 2019, and have been able to execute various other transactions as well.
In January of last year, Standard Chartered made an investment into Linklogis, which was the bank's first investment in a supply chain service from China.
Amelia Ng from SC Ventures stated:
"By marrying Standard Chartered's international trade and risk management expertise and unparalleled knowledge of Asia, Africa and the Middle East with Linklogis' innovations in supply chain technology, Olea is uniquely positioned to reinvent trade finance and be a force for good. Olea aims to disrupt today's trade finance model by matching suppliers' financing needs with alternative liquidity from investors seeking a compelling asset class linked to the real economy."
Alex Manson, who heads SC Ventures remarked:
"Trade, and accordingly trade financing, are essential for sustainable economic growth, even more so as businesses emerge from the pandemic and lockdowns. Olea brings together the strengths of Linklogis and Standard Chartered in this space and represents the next generation of supply chain financing, providing transparency and risk assessment of trade assets while fulfilling institutional demand for alternative investments."


[ad_2]

Source link