[ad_1]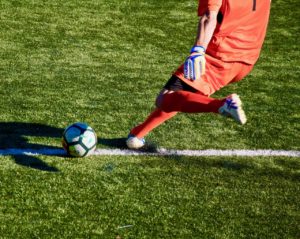 Lega Serie A and Crypto.com, a fast-growing cryptocurrency platform, revealed on August 19, 2021 that Crypto.com will become the "first" Innovation & Technology Partner of Italian Football.
Building upon Crypto.com's values of "transparency" and "reliability," the multi-year partnership integrates Crypto.com in each "broadcast moment" where technology "enhances the match, as the presenting partner of Virtual Assistant Referee (VAR) and Goal Line Technology."
As mentioned in a release shared with CI:
"Lega Serie A's VAR Center in Lissone will also be co-branded as the Crypto.com VAR Center. In addition, Crypto.com will present the Lega Serie A Goal of the Month."
This latest partnership further builds on Crypto.com's sponsorship of Lega Serie A's Coppa Italia in May 2021, where Lega Serie A became the "first" sports league in the world to enter a partnership of this kind with a crypto-focused platform.
Building on the success of the NFT collection, Lega Serie A and Crypto.com created for this year's Coppa Italia, new NFT collections "related to Serie A, Coppa Italia and Supercoppa Italiana will be developed as a result of the new partnership."
As stated on the announcement, Lega Serie A is "no stranger" to innovation, having been the world's first sports league to introduce VAR technology back in 2017. The 2020/2021 season saw a total of 2,372 incidents "where VAR technology was required." VAR interventions are included in Lega Serie A's international broadcast reaching 775M+ million TV households in 150+ countries.
Crypto.com now reports more than 10 million users globally and also offers a finance app via the App Store and Google Play. As previously reported,  the Crypto.com Visa Card is becoming increasingly adopted and is currently available 30+ countries.
Crypto.com has been focused on sports partnerships, recently announcing strategic partnerships with UFC and F1®. The company also became the first crypto platform to team up with an F1 team (Aston Martin Cognizant Formula One), and the first to team up with an NHL team — this year's Stanley Cup finalists, the Montreal Canadiens.
Luigi De Siervo, CEO of Lega Serie A, stated:
"We are very happy and honoured by this important partnership with Crypto.com, a leading cryptocurrency company that has chosen Lega Serie A to develop increasingly engaging products for all the fans of Italian football. This multi-year agreement confirms the strength of our brand worldwide and the common values with Crypto.com, especially the desire to bring fans closer through technology and innovation."
He added:
"Over the next few months we will be developing a number of commercial and marketing initiatives to expand our fan base and engage more and more fans."
Kris Marszalek, co-Founder and CEO of Crypto.com, remarked:
"We are extremely proud to deepen our partnership with Lega Serie A to enhance the fan experience with technology and innovation at the core. Since its introduction, VAR has brought greater transparency and reliability to football, features which we value deeply at Crypto.com."
As noted in the announcement, Lega Serie A is the Italian Professional Football League. Known as Lega Serie A, it's among the top football league in Italy. Based in Milan, it was established back in 1946 as Lega Calcio. In 2010, the league "divided into Serie A and Serie B."
Lega Serie A "organizes Serie A TIM, the major football championship in Italy, as well as the national cup and the match between the two winners of these competitions, the Supercoppa Italiana."
As mentioned in the announcement, the top 4 teams in the Serie A TIM "automatically qualify for the group phase of the UEFA Champions League."
Lega Serie A also runs various youth football competitions including Primavera 1 TIM, Primavera TIM Cup and Supercoppa Primavera TIM. Lega Serie A has "negotiated club TV rights collectively since the 2010/2011 sport season, usually on the basis of a three-year deal."
Established in 2016, Crypto.com serves more than 10 million customers with a fast-growing crypto app, along with the Crypto.com Visa Card — the "world's largest crypto card program" — the Crypto.com Exchange and Crypto.com DeFi Wallet.
The Crypto.com NFT is a platform for collecting and trading NFTs, "carefully curated from the worlds of art, design, entertainment and sports."
Crypto.com claims that it's developed on a "solid foundation of security, privacy and compliance and is the first cryptocurrency company in the world to have ISO/IEC 27701:2019, CCSS Level 3, ISO27001:2013 and PCI:DSS 3.2.1, Level 1 compliance, and independently assessed at Tier 4, the highest level for both NIST Cybersecurity and Privacy Frameworks."
With more than 1,800 professionals in business offices across the Americas, Europe and Asia, Crypto.com aims to support the global "transition to cryptocurrency."


[ad_2]

Source link