[ad_1]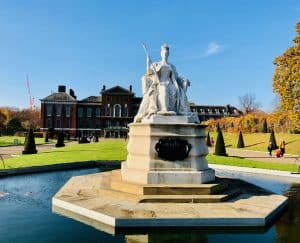 London-based Fintech firm SumUp has teamed up with the National Garden Scheme in order to lead the digitalization of charity by enabling "seamless" charitable donations via its card-reading tech, at an event supported by Dame Mary Berry, President of the National Garden Scheme, at Chilworth Manor in Surrey on August 11, 2021.
As noted in an update shared with CI:
"How Brits give money to charity is changing. The days of rattling charity buckets full of coins are dwindling as payment technology has evolved in line with our habits. Gone are the days when you would have to scramble for change in your pocket or bag, often these days you can tap away, do your bit, and keep moving."
As mentioned in the announcement, the National Garden Scheme continued to lead the digitalization of charity at Chilworth Manor in Surrey in partnership with UK's SumUp.
The release also noted that Chilworth Manor – "rarely open to the public" – played host to an evening of hospitality and live music "from jazz quartet Down for the Count, in the magnificent setting of the walled garden."
The announcement pointed out that SumUp data reveals that 73% of charities are "saying that street giving is falling simply because people do not carry enough cash, so investing in digital solutions seems the inevitable way forward, however only 14% of charities say they are well prepared to take advantage of contactless payments."
The release further noted that 56% of charities said they have "not adopted the tech because of the cost required to buy the equipment and 50% of charities are actively exploring investment in new ways for their supporters to donate."
Chief Executive of the National Garden Scheme, George Plumptre, stated:
"The National Garden Scheme's new partnership with SumUp has transformed the charity's financial efficiency. From being a cash-only organisation with all the challenges that brings in a Coronavirus world, we have been able to offer our garden owners the option to have a card reader on their open day with all the benefits this brings for them and their visitors who now have the option to pay by card. SumUp have dealt with and supported our order for 1,000 card readers and our complicated financial reporting structure brilliantly."
Umberto Zola, Country Growth Lead UK at SumUp, remarked:
"At a stroke we have gone from being a financial dinosaur to being properly up to date with the offering for our customers. SumUp's generous support for our event at Chilworth Manor and enabling us to use the card readers at our wider fundraising events is the icing on the cake."
Zola also mentioned that SumUp is pleased "to support the UK's charitable sector through our partnership with the National Garden Scheme and CollecTin."
It's only right to make our technology and network available to the individuals that offer care and support to people who are in need, Zola said. Supporters of the National Garden Scheme are "funding incredible work and we at SumUp are only too happy to help in any way we can," Zola added.
The release added that events like those organized by the National Garden Scheme are vital  to the charity's "long-term health" and success, as it aims to support various charities including the Macmillan Cancer Support, Marie Curie, Hospice UK and The Queen's Nursing Institute.
As previously reported, SumUp is a Fintech firm that enables businesses or companies of all sizes to receive payments "quickly and simply, both in-store and online."
SumUp supports more than 3 million merchants globally and "operates in 33 markets across Europe, the US, Brazil and Chile."
SumUp's digital sign-up, quick delivery, and fast and easy set-up "means that merchants can be empowered by digital transactions within just minutes from receiving their card terminal."
The National Garden Scheme "gives visitors unique access to over 3,600 exceptional private gardens in England and Wales, and raises impressive amounts of money for nursing and health charities through admissions, teas and cake," the announcement noted.
As stated in the release:
"Thanks to the generosity of garden owners, volunteers and visitors they have donated over £60 million to nursing and health charities and made an annual donation of £2.88 million in 2020. Core beneficiaries include Macmillan Cancer Support, Marie Curie, Hospice UK and The Queen's Nursing Institute."
The announcement also mentioned:
"The National Garden Scheme doesn't just open beautiful gardens for charity – they are passionate about the physical and mental health benefits of gardens too. They also support charities doing amazing work in gardens and health and grant bursaries to help community gardening projects.
Dame Mary Berry is the President of the National Garden Scheme. HRH The Prince of Wales is a Patron.


[ad_2]

Source link