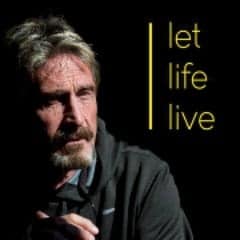 Founder of McAfee Antivirus and staunch crypto-advocate John McAfee was found dead in his prison cell in Barcelona, Spain earlier today according to a report in El Pais.
McAfee had been arrested on charges of tax evasion along with conspiracy to commit commodities and securities fraud, wire fraud conspiracy, and money laundering conspiracy offenses stemming from the fraudulent promotion to investors of cryptocurrencies.
McAfee was also the target of an enforcement action by the US Securities and Exchange Commission.
McAfee was expected to be extradited to the United  States following a months-long process in Spain. All reports indicated suicide but authorities are expected to conduct an investigation on McAfee's death.
Following his exit from the eponymous antivirus software firm, McAfee lived a colorful existence frequently espousing his opinions on Twitter. His advocacy, and apparent promotion of crypto, was shared widely by the crypto-industry.
In 2018, McAffe infamously said he would eat his own d***k if Bitcoin did not hit $500,000 in three years.
More recently, McAfee expressed his dire situation being held in a Spanish prison stating his friends had evaporated and all of his assets had been seized.
The US believes I have hidden crypto. I wish I did but it has dissolved through the many hands of Team McAfee (your belief is not required), and my remaining assets are all seized. My friends evaporated through fear of association.

I have nothing.

Yet, I regret nothing.

— John McAfee (@officialmcafee) June 16, 2021
A Tweet from earlier this week was a bit more prosaic stating "in a democracy power is given not taken."
In a democracy, power is given not taken.

But it is still power.

Love, compassion, caring have no use for it. But it is fuel for greed, hostility, jealousy…

All power corrupts.

Take care which powers you allow a democracy to wield.

— John McAfee (@officialmcafee) June 18, 2021
McAfee was 75 years old.