[ad_1]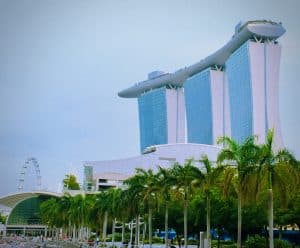 Singapore-based ECXX Global, an asset-based digital securities exchange, has revealed that it will be working with regional brokerage UOB Kay Hian in order to bring in deep tech startups to their network and give them the chance to list through Securitized Token Offerings (STOs) so that they can raise funds.
Through this partnership, ECXX Global and UOB Kay Hian will aim to facilitate tokenization projects and leverage UOB Kay Hian's pool of investors so they can market and distribute security tokens to potential investors.
The announcement confirmed that these offerings will adhere to applicable regulatory guidelines for security token issuance and they will offer relevant investor education and analysis on blockchain-based tokenization and token investment opportunities.
ECXX had been admitted to the Monetary Authority of Singapore's (MAS) Fintech Sandbox Express under a Recognized Market Operator (RMO) track. This had led to ECXX being integrated into MyInfo which aims to serve as a comprehensive Singapore government-supported identity platform.
Branson Lee, CEO at ECXX, stated:
"We are excited by the opportunities arising from this collaboration with UOB Kay Hian. They are one of the leading regional brokerage out there and we believe that we are able to address their large list of accredited investors who are interested in token investment. In addition, the synergy from this collaboration will create more opportunities for investors to tap into digital assets and the blockchain space."
Esmond Choo, Senior Executive Director of UOB Kay Hian, noted that the ECXX platform has been developed to be quite versatile and will "serve the fast growing digital asset space." UOB Kay Hian is looking forward to working with ECXX, a firm which has "a strong domain knowledge in STO offerings matched by a robust pipeline of rapid growth technology-based companies," Choo added.
He also mentioned that his company believes that this collaboration will allow them to "leverage their respective strengths to grow their presence in the Fintech sector."
As noted by its management team, Ecxx.com is a "premium" Digital Assets Platform based in Singapore. The company's mission is to "shine as the beacon of a professional digital assets exchange from Singapore to the region steeped in great customer service." Its goal is to become "the #1 professional digital assets platform in Asia."
As explained by its management, UOB Kay Hian is "a stalwart in the securities trading and investments for the Asian financial markets." Based in Singapore, the company maintains business offices in Hong Kong, Thailand, Malaysia, London, Shanghai, New York and other financial markets.
UOB Kay Hian's management states:
"Providing a wide range of services to a diversified client base that includes corporations, institutions and local investors, clients can rely on our local knowledge of key Asian financial markets to improve on their investment decisions and portfolios."


[ad_2]

Source link