[ad_1]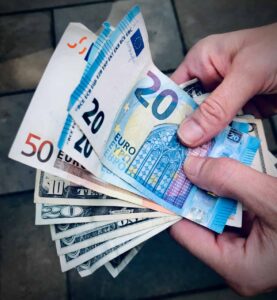 Payments platform Adyen (AMS:ADYEN) recently examined the major shifts that are shaping the North American payments space (from the experts at Google Pay, GoFundMe, and Adyen).
Adyen noted that in October 2020 they virtually welcomed merchants and payments experts for discussions during the Payments Decoded online event.
Since 2020 was "a year unlike any other," the Adyen team decided to make their sessions across platforms and marketplaces, e-commerce, food and beverage, and retail available on-demand. These events featured key insights from Google Pay, GoFundMe, and Adyen.
An important payments trend for North America is "the rise of debit." Last year, debit spending "accounted for 55.3% share of purchase volume (an increase of 8.6% from 2019)," Adyen revealed. They also claim that this is "big news for merchants wanting to improve authorization rates for debit-loyal customers."
Sharanya Ramesh, Sr. Business Analyst at Adyen, stated:
"Having a debit connection in itself has little value. It cannot be used as a dump pipe. The real value comes from routing based on issuer preference. There are many factors that go into an approved transaction. The issuer is ultimately the one who approves the transaction, but the debit networks play a big role in this decision."
As noted in a blog post by Adyen, "the bottom line, having a payments partner who knows the preferences of each issuer and debit network — and who automatically retries failed transactions — can help you see a huge lift (for example, merchants who use Adyen see between 1% to 3% lift in revenue on average)."
Another trend to look out for is "the rise of alternative payment methods, or APMs."
Steve Klebe, Head of BD – PSP Partnerships at Google Pay, noted that "back on the desktop, you could get away with cards and maybe PayPal." Klebe pointed out that "now the world has become mobile-centric, it's table stakes to have at least the primary mobile payment options available." He added that "there are too many reasons not to do it."
Klebe further noted:
"Faster, more secure checkout; convenience for the consumer; one place for receipts — the benefits are endless [for APMs.] There are diminishing returns on how many APMs you can put into place, though. For many merchants that are global, you have to invest in some intelligence. You wouldn't present iDEAL as a payment method to somebody in the United States. It takes a little effort. I do believe it has become mandatory to offer it and COVID has just reinforced that."
Adyen also mentioned that with many more people shopping online than ever before, it should come as no surprise that fraudulent activities are also on the rise.
Another major payments-related trend, according to Adyen, is "platform fraud." They've suggested "using data to ensure platform businesses can block fraudulent activity without impacting the customer experience."
Matthew Murray, Risk & Compliance Manager at GoFundMe, remarked (during the session):
"Be very real about your risks and addressing them responsibly. You want to solve [things] in a scalable way to avoid needing an army of people looking. For example, a bit of card testing can look like collusion in some cases. However, when you're able to compare KYC against account activity, then you can understand this is a good customer, the fraud isn't connected."
Another key trend to "activate" in 2021 is "customer loyalty through personalized checkout journeys," Adyen noted.
J.P. Lips, Head of Retail & Hospitality Solutions at Adyen, added:
"What's really important is the data you have as retailers and as hospitality companies. What people buy, what people spend, how often they come, where they go. That is the kind of data that is important as a starting point for understanding your customers."


[ad_2]

Source link